Auto Tracking & Direct PTZ Control

Gsm  alarm

It is a compact,  alarm for end users. Thanks to its easy management through a single control button, the user does 

not need help of a professional installation company from security sector.

Dragon informs you about the unauthorized entry of intruder into the monitored room by text message and voice 

call directly on your mobile phone. It allows you to listen to what is going on in the room
After the alarm has been activated or when disarmed. You can use it also in case of danger or health problems 

(so called panic function) - dragon informs your family or friends about your emergency
Situation by text message and voice call.

Applications:

- monitoring of protected room (flat, office, weekend house... ) by integrated motion detector
- reporting of intrusion into the protected room by text message or voice call
Possibility of tapping after the alarm activation or when disarmed
- panic function - calling for help in case of danger or health problems

Price:645.00 €

GlobalTrack Vehicle Tracking System


Detailed Product Description
1.With build-in lithium battery in the AVL
2.Can be charged by exterior DC 9 - 36 V
3.Exterior battery cut off alarm
4.Support mini USB port which can be used to update firmware
5.Low power consumption
6.With build-in Simcom GSM/GPRS module and Sirf-starIII GPS chipset
8.Support single location and continual tracking
9.Can realtime track your vehicle via map on PC
10.GPRS function, receiving position data and alarm data on Server
11.Anti-theft alarm, support alarm for someone tremble your car when  you park it and it AVL will send an alarm report to you via SMS or GPRS data
12.Remotely supervise the status of the windows or doors close/off, through the 2 switch I/O sockets, and remotely supervise the status of the status of ignition through the 1 digital I/O socket.
13.Over-speed alarm
14.Geo-fence alarm
15.Low battery alarm
16.SOS button send out exact location for immediate rescue. After user press SOS button in the AVL, AVL unit will send out the location and SOS alarm to the preset number via SMS or a server via GPRS.

Fleet Management/GPS Tracker Monitor System with Historical Trace Search Function

Model Number:fleet management(tzonelink)

Key Specifications/Special Features:

Multi-user and multi-windows monitor
One user can monitor many vehicles
Monitoring one or many vehicles real-time and the trace will be showed on map dynamically
Record the trace of vehicles
Historical trace search function
Historical trace can be showed on map
Function of monitor vehicles trace
SOS help of vehicles can be showed on screen
Administrator's function: take charge for all users and vehicles, can active the accounts of tracker and browser the trace of all users
Requirement of software: Windows 2003, ASP.net 2.0 and MSSql2000

Price: 1200 eur

when this expires.

This is the Best 4ch Package you can find . why ? 

Bigger Harddrive than others .  The package comes with 160GB
Nightvision Indoor Dome Camera with new 2nd Generations IRs .
Easy Plug and Play installation.
Lifetime Tech-support.

This is a Complete package PACKAGE #A3 Includes the following:



A Charge-Coupled Device (CCD) is a light-sensitive integrated circuit that stores and displays the data for an image in such a way that each pixel (picture element) in the image is converted into an electrical charge the intensity of which is related to a color in the color spectrum. CCDs are now commonly included in digital still and video cameras. A CCD in a digital camera improves resolution compared with other technologies (such as CMOS). Another asset of the CCD is its high degree of sensitivity. A good CCD can produce an image in extremely dim light, and its resolution does not deteriorate when the illumination intensity is low, as is the case with conventional cameras.

Pro's & Con's CMOS chips are less expensive to manufacture, and that cost savings translates into lower camera prices. CMOS chips perform better than CCD chips when capturing highlights, such as the sparkle of jewelry or the glint of sunlight reflecting across a lake. The main argument in favor of CCD chips is that they're more sensitive than CMOS chips, so you can get better images in dim lighting. CCD chips tend to deliver cleaner images than CMOS chips, which sometimes have a problem with noise (small defects in the image). CCD chips suffer from blooming, which means creating unwanted halos around very bright highlights, while CMOS sensors do not.

Monitor your home, business and love ones from anywhere anytime!
We provide a complete video surveillance solution. Use our PC based DVR kits or our customised embedded DVR system to monitor your home, business and love ones. Connect to your DVR via mobile phones or PDAs and stream live video over GPRS or 3G.
          is Huper Laboratories' intelligent digital video surveillance system for large-scaled , or commercial securities. Other than conventional DVR functions , huperVision 4000  offers more powerful and intelligent features in video content analysis.

Key features of huperVision 4000 include

Intelligent Surveillance

Central Management Solution

Mobile Surveillance

Hybrid & IP DVR Solution

Superb Video Quality

DVR Scalability 





 

Intelligent Surveillance
?  

Smart Detection

Missing Object Detection sends notifications if an existing object, like paintings in the gallery, is missing from the camera view for a period of time.


Left Object Detection sends warnings if unattended objects, like bombs or unattended luggage, are left on the scene for a period of time.


Virtual Fence Detection perceives intrusions when suspicious objects/people pass a predefined line or proceed the wrong way in single direction entrance.

Secure Zone Detection alarms when intrusions occur in one or more predefined forbidden zones.

Flame Detection notifies you when flames are detected. (optional)

 

 

Flow Counting calculates the amount of objects/people passing a predefined line or area.

 ?  Intelligent Search

Unique Size Filtering allows you to define the size of search targets to increase accuracy.

Advanced Motion Search and Missing & Left Object Search save much time in locating specific video segments from a huge database.



The thumbnail view displays search results for instant view.

     


?  PTZ Camera Auto Tracking & Direct PTZ Control

PTZ Camera Auto Tracking adds intelligence on your PTZ camera which enables the PTZ camera to automatically track a moving object.


Direct PTZ Camera Control provides auto close-up on the region of interest. It allows you to define a specific region, and the PTZ camera will zoom in to turn the region into a near full-screen display automatically.



Events Trigger PTZ camera to a preset position.


?  Content Protection

Content Protection prevents video content being tampered

by embedding digital watermark in snapshots.

(The tampered license plate is marked in green)

Central Management Solution

           HuperLab Central Management Solution is an advanced central management system that brings multiple huperVision systems together into an integrated interface for remote monitoring and control. It includes two programs, huperCenter and huperRemote, for separate installations.

huperRemote is a DVR remote program that can monitor up to 1,024 remote DVR sites, and display up to 64 video channels simultaneously

huperCenter acts as a central monitoring and event management station which receives alerts from multiple remote DVR sites, and generates event logs for archives & search.

Mobile Surveillance

huperVision 4000 lets you remotely monitor any DVR site via your handheld devices, such as PDA and mobile phone

.

Hybrid & IP DVR Solution

| | |
| --- | --- |
| huperVision 4000 provides hybrid DVR functionality that allows you to connect both analog and IP cameras (including megapixel cameras) to the newly-built or existing surveillance system. | |

Superb Video Quality

          huperVision 4000 provides 16CH (or even 32CH) DVR real-time display & recording at full D1 resolution (NTSC: 720x480, PAL: 720x576).

         Built-in Wide Dynamic Vision Pack provides powerful features on video quality enhancements, sharpness adjustments, noise reduction, and false alarm prevention.


Day and Night Visibility Enhancement


Before

after


Sharpness


Before

After

Noise Reduction


Size: 5356 bytes/frame

Size: 4026 bytes/frame

Size Filtering for Motion Detection


No alarm

Alarm

          HuperLab's HM (MPEG-4 like) compression technology, a self-owned, patented software compression format, optimally compresses the recording video, yet keeps its high quality. With HM, what you see is what you record, giving you higher recording frame rates with low hardware costs.

          HuperLab's own High Definition (HD) De-interlace technology ensures high-definition video quality by removing artifacts and improving the quality of encoded video. This means no ghost effect on moving objects.


HD De-interlace Technology

Other De-interlace Technology

DVR Scalability


          HuperLab provides stackable

DVR boards

in which users can stack two, three or even four DVR cards in one machine. HuperLab offers the flexibility of stacking DVR cards to double a system, i.e. turn two 4CH DVR cards to make an 8 CH DVR system, two 16CH DVR cards for a 32CH DVR system, etc., saving a considerable amount of cost and space.


          huperVision 4000 enables users to stack two or multiple 16CH DVR cards in one single machine for a 32-channel (or 16N-channel, N ? 2) DVR system under HuberLab's exclusive multi-instance DVR structure. This allows an effective, cost-conscious way to build a high-performance 32CH (and above) intelligent DVR system for the price of one DVR machine. A multi-instance structure is a convenient and space-saving way to manage multiple surveillance cameras from one single DVR.

Dual VGA monitors are required for 32CH DVR display.

Indoor Wall Mount for WV-CS954 & WV-CS574 Dome Cameras, silver color.

Key features include: Adaptive Digital Noise Reduction: 2D-DNR and 3D-DNR integration ensures reduced noise and motion blur in various conditions. Electronic sensitivity enhancement: Auto (Up to 32x) / OFF 30x zoom lens: 3.8 mm ~ 114 mm (approx. 300x with digital zoom) Pan/Tilt speed of max. 400°/s at preset mode and 0.065°/s super fine control at manual mode 5 degrees upper view for various applications Auto tracking: The camera automatically pans and tilts to follow a moving subject and keep it in the center of the image. Built-in Video Motion Detector with 4 programmable detection areas and 6 sensitivity levels Scene Change Detection alarms when lens is covered,

The PWM20G wall mount will supports pendant style outdoor domes, including the POD-9C.
spray painted, removed or defocused. Various I/O terminals: ALARM IN 1 / BW IN, ALARM IN 2 / ALARM OUT, ALARM IN 3 / AUX OUT Alarm sources include Terminal 1 ~ 3, VMD and Panasonic alarm command. Alarm actions include Preset positions 1 ~ 256, PATROL 1 ~ 4, SD memory recording, FTP image transfer, E-mail notification, Indication on browser, Terminal output, Panasonic protocol output and Auto track. Auto image stabilizer for applications where vibration or wind is a concern Camera title display: 16 alphanumerics OSD and 20 alphanumerics on the browser Digital Slip-ring Transmission: The high speed digital video signal supplied by the Super Dynamic III DSP travels through the compact slip-ring without any DA/AD conversion process preventing image quality loss. Built-in MPEG-4/JPEG digital signal output at VGA image size with up to 30 ips MPEG-4 and JPEG dual stream output for simultaneous live monitoring and high resolution recording Progressive output with motion adaptive interlace/progressive conversion allows every image to be clear even when the object is moving. PTZ control can be made on the user-friendly GUI with 16 speeds pan/tilt and new "Drag and Zoom" operation enabling finer control. 256 speeds available for system with WV-CU950 system controller. pan/tilt and new "Drag and Zoom" operation enabling finer control. 256 speeds available for system with WV-CU950 system controller. 360° map shot: 8 thumbnail images at 45° intervals make it simple to direct the camera by clicking on a thumbnail. Built-in network interface (10Base-T / 100Base-TX) Multiscreen: Image from 16 cameras can be displayed in 4 different Quad screens or 16-screen (JPEG only). FTP client function enables periodic image data transfer or transfer upon alarm. Alarm notification via e-mail Max bit rate/client (64 / 128 / 256 / 512 / 1,024 / 1,536 / 2,048 / 3,072 / 4,096 kbps) or frame rate priority mode (4,096 kbps / Unlimited) for MPEG-4 and Total bit rate control (64 / 128 / 256 / 512 / 1,024 / 2,048 / 4,096 kbps / Unlimited) allowing flexible network management. Full duplex 2-way audio allows interactive communication between camera site and monitoring site. Alarm log, Manual REC log, FTP error log saved in the SD memory card is displayed on the browser GUI and can be downloaded to the client PC. Playback or Image data download through the log is also available. Multi-language GUI and setup menu: English, French, Italian, Spanish, German, Russian (PAL), English, French (NTSC), (Installation required except for English). SD memory card slot for Manual recording, Alarm recording and Backup upon network failure Scheduling function for Alarm / VMD / Access permission, Preset position call and Position refresh.

This is the Best 4ch Package you can find . why ? 
Bigger Harddrive than others .  The package comes with 160GB
Nightvision Indoor Dome Camera with new 2nd Generations IRs .
Easy Plug and Play installation.
Lifetime Tech-support.
This is a Complete package PACKAGE #A3 Includes the following:

1x 4ch MPEG4 Realtime Network DVR With 160GB Harddive
On Sale now !! all the orders will be shipped out in 24hrs.


On Screen live Display for 4 Cameras

 or On Screen live display in Single Camera mode ( Just click the remote to change mode)
DVR always records no matter which mode is on
DVR always record no matter playing back , online viewing or backup
DVR supports Fulltime/Motion/Alarm/Remote Recording Functions .
DVR supports USB flash drive backup, and network remote recording & backup
online viewing at anytime at anywhere
Easy Online Viewing No Need Any Download and Software
Work with Window Vista , XP and Win2000

It also comes with online Viewer Software
Online Viewer Security Login

Our Free Tech-support will help you to set Online Viewing Step by Step .

1) 75? / HI-IMPEDANCE:
     When using Loop function, please switch to HI-IMPEDANCE. When you don't use Loop function,
      please switch to 75?.
2) VIDEO INPUT (CHANNEL 1 - 4): Connect to video sources, such as cameras.
     LOOP (CHANNEL 1 - 4): Video output.
3) MONITOR:
     Connect to Main monitor.
4) CALL MONITOR:
     Connect to CALL monitor. Show the channel switch display. When the alarm is triggered, the
     call monitor will show the image of the triggered channel for a period of time.
5) AUDIO IN (1 audio-in):
    Connect to audio sources, such as cameras equipped with the audio function.
    When users start the recording function, the audio input will be recorded.
6) AUDIO OUT:
    Connect to a monitor or speaker.
    With 1 mono audio output from the same source.
7) D/V PORT (Digital Video Port):
    Connect to a VGA converter.($49)
8) EXTERNAL I/O PORT:
    Insert the supplied 15PIN DSUB to this port for connecting external devices (alarm input,
    external alarm, PTZ camera).
    For detailed I/O port PIN configuration, please see user manu.
9) LAN:
    Connect to Internet by LAN cable.
10) LINK / ACT LED light:
    When the Internet is activated, the LED light will be on
11) POWER:
    Connect to the supplied adapter.
12) USB:
     Support USB flash drive backup.
13) IR PORT:
     Connect the IR receiver for remote control
Easy Network
                    The 2nd Generation IR
NEW  Smart Light Control (Dynamic adjustment for clear and accurate Image):
Clear and Sharp Image Without Over-exposure:
Compared with conventional IR cameras to use CDS sensor only for controlling IR light, IRpro series products
use both "CDS" and Image Comparison" method to judge whether IR LEDs should be activated for light
compensation.
Longer IR LED Life:
Because of the effective control of IR LEDs and exclusive MCU design, the IR LED life is greatly extended and
reduces the cost for using this camera.
Patent Mechanical IR Filter shift design (to get true color and clear images):
Daytime (True Color):
True color is presented for these IR camera series to receive the same visible light as human beings can see.
At night (Clear Image):
IR Filter is automatically shifted away for the CCD to receive Infrared light passing through the lens providing
clear and better images. Besides, the sensor sensitivity and brightness are raised up compared with traditional
IR cameras because of the usage of the large aperture lens.
4 x New Model with super image CCD dome .  The new 2nd generation IR is more brighter and farther . 
 21IRs can incredibility see up to 40 feet in total darkness.

FEATURES
(1) High sensitivity in the dark environment, 0.4Lux / F2.0, 0Lux (IR ON)
(2) Day and night features for 24-hour surveillance
(3) Excellent image quality
(4) IR LED effective range reaches up to 40ft .
Model : BL133
Pick up Element 1/3" color CCD image sensor
Number of Pixel 512(H) x 492(V) <NTSC> / 512(H) x 582(V) <PAL>
Resolution Standard 420TVL
Min. Illumination 0.4Lux / F2.0, 0Lux (IR ON)
IR LED 21 units
Effective Range Up to 40ft
S/N Ratio More than 48dB (AGC off)
Electronic Shutter 1/60 (1/50) to 1/100,000 sec.
Lens f3.6mm / F2.0
Lens Angle 92.6°
IRIS Mode AES
White Balance ATW
Video Output 1.0 Vp-p composite, 75?
Power Source (±10%) DC12V
Current Consumption (±10%) 90mA (IR OFF), 280mA (IR ON)
4 x 50ft plug and play CCTV cable with Power
Plus 4 x Plug and play power adapter and TV cable
visit our for more package deals
4 camera mpeg4 network DVR with

160GB Harddirve

 
REAL TIME DVR WITH USB BACKUP
MPEG-4 compression with a resolution of 720 x 480 with 120 fps
Pentaplex operation allowing simultaneous playback,recording, video back up and network access
Remote access via RS-232 and RS-485 protocol and USB for off loading
MPEG4 DVR Technology
 Compression format providing crystal clear images with real time performance.
Multiplex
 Allow live display, record, playback, backup and network operation at the same time.
Long-Recording Hours:
 500GB (optional $289) HDD can record more than 170 days. (4CH, CIF Best Quality, 15IPS)
Backup Function:
 Support USB flash drive backup, and network remote recording & backup
Remote Surveillance:
 Remote surveillance with the licensed software AP and IE browser
 Web surveillance with 5 users simultaneously
Intelligent Motion Trigger Recording:
 With advanced settings for motion detection, scheduled motion detection recording (4 different adjustable factors for
the motion detection sensitivity) and convenient search function, customized security environment is achieved.
 Alarm triggered recording will send alerts with images to the designated e-mails and FTP address
 Support pre-alarm recording (8MB)
Covert Recording:
 A mask replaces the live image with a blank screen, and the monitor shows nothing but recording is still on.
A/V Support:
 Support 1 audio-in, 1 audio-out to record sounds
 Support VGA converter (optional) $49
General:
  Support IR remote control
 System auto recovery after power reconnected
 Support daylight-saving function
 Support manual / timer / motion / alarm / remote recording functions
 Watermark function ensures authentication of the recorded images
 Support TCP/IP, PPPoE, DHCP and DDNS network connection
100% lowest Price guaranteed on professional CCTV Products . We will match any price + extra discounts .        Resellers are welcomed . Join our dealer program today to get extra discounts   call us at 877-702-3311 for any questions .
Upgrade to 500GB   for only $95
We also offer High resolution VGA ( $69 ) port for this DVR so you can watch it on your big computer monitor .
All Products are Brand New and with 1 Year Warranty + lifetime tech support
---
Sony PTZ CCTV Auto Tracking Pelco 22x Zoom Security DVR

1/4 Sony SuperHAD 480 TV Line with VandalProof Housing
Package includes :
1 x 1/4" Sony H.R Color speed dome camera with Intelligent Auto Tracking Function
1 x  PTZ keybroad provides 3D joystick and  LCD touch panel for easy operation

  BLP001    

1/4 Sony" High Resolution Color Speed Dome Camera with 22x Zoom
                  Intelligent Auto Tracking Function
Easy setup . 1 button push for Auto Tracking .
Our free tech support will help you to set it up step by step .
Product overview:
This outdoor type speed dome camera equipped with a 360?° pan and 90?° tilt base, and 22X optical zoom lens and
has the auto focus function. Moreover, it has many advanced functions, including Intelligent Auto Tracking, High
Spindle Reliability, Friendly Graphical OSD Interface and Convenient Keyboard Controller Control. With all
these strong features, various demanding applications for safety surveillance can be easily achieved.
Features:
High-Speed Pan/Tilt Mechanism and Auto-Focus Zoom Lens
Provide 360?panning, 90?tilting and 22X optical zooming functionality.
Auto Tracking Function to Follow Intruder
With precise pan / tilt movement and zoom coefficient calculation, the speed dome camera can make
precise pan, tilt and zoom movement to keep tracking intruders.
The camera will automatically aim and follow the largest movement in the monitoring view, making the
camera pan (max. 360?), tilt (max. 90?) and zoom to keep the target in the center of the view within: (1) the
camera's pre-defined surveillance area / (2) the pre-defined tracking timeout. When the locked target
is out of the pre-defined surveillance area or the aimed object stops moving longer than the pre-defined
tracking timeout, the camera returns to the point it originally monitors. It's the best function to provide
evidentiary recording.
Proven Spindle Reliability
The patented spindle of the speed dome camera passes rigidly component analysis after testing more than
2,000,000 revolutions.
Graphical On-Screen Display
Easy Operation via Keyboard Controller
The optional keyboard controller provides convenient 3D joystick and touch screen design for easy
operation.
Support PTZ Hot Point Function
Support 8 preset groups, up to 256 programmable preset points
Advanced White Balance Function
 According to different color temperature and installation place, set the white balance function to the
different mode.
Text Display of Camera Title
Show an identifying name for each camera on the monitor, up to 10 characters and symbols.
Outdoor 22X Zoom Speed Dome Camera Specification*
GENERAL
Signal System                                                                               NTSC or PAL
Pick-up Element                                                                           1/4" Sony Color Super HAD CCD image sensor
Number of Pixels                                                                        768(H)*494(V)<NTSC> / 752(H)*582(V)<PAL>
Resolution                                                                                    480TV lines
Min. Illumination                                                                     0.3 Lux / F1.6
S/N Ratio More than                                                               48dB (AGC off)
Video Output                                                                              1.0 Vp-p. 75?©
BLC                                                                                                  On / Off
Gain Control                                                                               Low, Medium & High / Off
Sharpness                                                                                    Low / Medium / High
White Balance                                                                          Auto / Indoor 1 / Indoor 2 / Sun / Cloudy
Camera Title                                                                             10 characters
Preset Points and Sequence                                               Total 8 groups, 256 programmable preset points
panning route.                                                                        Auto Tracking Yes (combined with auto zoom focus tracking)
LENS
Focal Length                                                                            f3.9 mm ~ f85.9 mm
F-number                                                                                  F1.6 (Wide) ~ 3.7 (Tele)
Viewing Angle                                                                         4?~ 60?
Auto Electronic Shutter                                                      1 / 60 (1/50) to 1 / 100,000 sec.
Auto Focus                                                                               Manual / Auto
MECHANISM
Pan Range                                                                                 360?
Pan Speed                                                                                 360?/ 1 sec
* The pan speed can be adjusted according to the different pan speed mode.
Tilt Range                                                                                  90?
Tilt Speed                                                                                  0?~ 90?under 1 sec
Zoom Ratio                                                                              22X optical zoom
Zoom Speed Approx                                                           . 7s (Tele ~ Wide)
OTHERS
IP Rating                                                                                    IP67
Ambient Operating Temperature                                    -10°C ~ 40°C (14°F ~ 104°F)
Power Source                                                                           DC12V ± 10%
Current Consumption                                                            1.5 A (max)
Dimension (mm)                                                                      145(??) x 184(H) mm (?± 5mm)
Gross Weight (g)                                                                     Approx. 1.2 kg
Optional Bracket                                                                     Wall-mounted
Optional Device                                                                       Keyboard controller

     BLK129
PTZ Keybroad  :  3D Joystick with Touch Screen , built-in microphone
1. Controls up to 64 devices through one keyboard controller
    (Devices such as the PTZ camera, DVR and door access control )
2. User-friendly button placement & LCD touch panel (128 * 64 pixels) for easy operation
3. Network upgrade available for future scalability
4. Supports Multi-protocols ( pelco D/P )
5. Password protection to prevent unauthorized intruder
6. Built-in microphone for broadcast function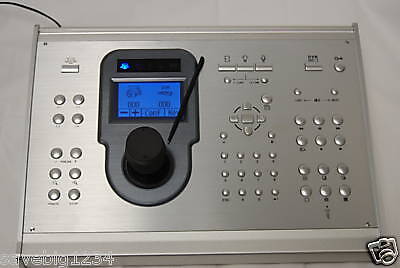 FULL   FUNCTIONALITY
One controller controls all devices
BLK129  Controller
Device Control                                           PTZ camera, DVR and door access control?€¦etc.
Remote Control                                         RS-485
Multi-Protocols                                          Yes
Baud Rate                                                  2400 ~ 115200
LCD Display                                              128*64
Ethernet Port                                              10/100 Base-T
External I/O Port                                         9 Pin D-Sub
Input Voltage                                               DC12V
Power Consumption                                   < 2W
Operating Temperature                             0°C ~ +40°C
Operating Humidity                                    < 95%
Dimension                                                   380 (W) mm x 180 (H) mm x 95 (D) mm
Please feel free to Contact US at 713-271-5700 if any questions . 
Resellers are welcomed . Join our dealer program today to get extra discounts .
MORE PRODUCTS IN OUR EBAY STORE


                                MORE LENS

NEW MPEG4 REAL TIME 4CH NETWORK DVR  $219 on sale

NEW MPEG4 16CH NETWORK REAL TIME DVR  Price starting at $689

       BL133 with IR Pro


BL255 1/3 Sony Box Camera with Audio  12DC/24AC


 BL132
Try our New 2nd generation IR Camera With NEW  Smart Light Control
Dynamic adjustment for clear and accurate Image. Clear and Sharp Image Without Over-exposure.
 Longer IR LED Life

Have Questions ?  Please Contact US at 1-877-702-3311

9ch and 18ch  Powerbox for CCTV Cameras
All Products come with 1 year Warranty and Free Lifetime Tech Support .
HAVE Questions ?   Call us  at  1-877-702-3311
Want a PACKAGE or DVR with more discounts ?  visit my ebay

---