Newly designed proPANEL
Half the size of previous units, the redesigned Uponor proPANEL mixing panels feature a host of innovations that speed installation, improve control and simplify setup for radiant heating and cooling systems.

Fully assembled and wired with Cat5 or RJ45 connectors, the new proPANEL units are modular, allowing them to meet the needs of any radiant application, regardless of size or complexity. Connecting multiple panels to a single hydronic controller, such as the new Climate C?ntrol™ - Multifunction, is a simple plug-and-play operation.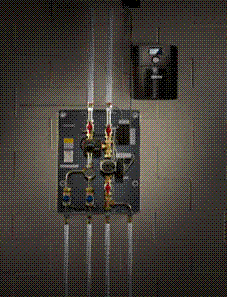 The new proPANEL units are available in four models:
proPANEL 90: single-zone pump without mixing
proPANEL 90M: single-zone pump with mixing
proPANEL 90Z: dual-zone pump without mixing
proPANEL 90MZ: dual-zone pump with mixing
 
All four models measure 26"H x 18"W x 7"D and range from 26 to 37 pounds, allowing one-person installation, further saving time and costs. The 90 and 90Z models do not feature mixing and can be used in stand-alone applications with a low-temperature water source, but without the Climate C?ntrol - Multifunction hydronic controller.