Bulletproof vest
$610.00


Body Armor:
External Bulletproof Vest (police style)
Upgradable to level III or IV.
Especially designed for law enforcement organisations
and security personnels.

Ballistic Protection level IIIA
protects against most handgun threats (see more)
as .40 S&W FMJ, .22 LR, .38 ACP, .45 ACP, 9 mm,
.357 Magnum, .357 SIG, .44 Magnum, 12 ga. shotgun

Advantages & Benefits:
High Mobility and Lightweight
High Protection Level IIIA - Front and Back
Manufactured with 24 layers of Goldflex, the most advanced material (see more)
Comfortable and Ajustable with Velcro
Made under ISO 9001:2000 international standards
---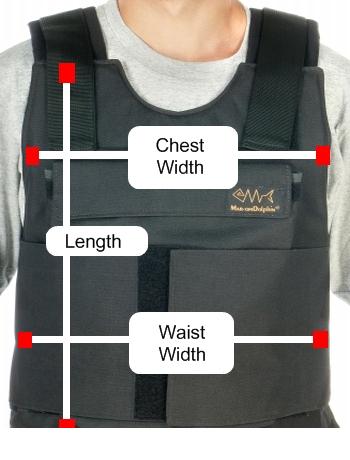 Size
Chest
Width
Waist
Width
Vest
Length
Vest
Weigth
M
14,5 - 19 "
37 - 49cm
18"
46 cm
16"
41 cm
5,3 lbs
2,4 kg
L
14,5 - 19 "
37 - 49 cm

18"
46 cm
17"
43 cm
5,7 lbs
2,6 kg
XL
14,5 - 19 "
37 - 49 cm
18"
46 cm
18"
46 cm
6,1 lbs
2,8 kg
XXL
19 - 21 "
49 - 53 cm
20"
51 cm
20"
51 cm
7 lbs
3,2 kg
XXXL
21 - 22,5 "
53 - 57 cm
21"
53 cm
21"
53 cm

7,5 lbs
3,4kg
XXXXL
22,5 - 24 "
57 - 61 cm
22"
56 cm
22"
56 cm
7,9 lbs
3,6 kg
---
Optional

1. This model includes an inner front pocket (6" x 8") to insert a hard trauma plate (see more).
Even though your vest stops the bullet, the hard trauma plate enhances the performance of your ballistic vest by dispersing the energy of an impact over a larger area, reducing blunt trauma injuries.
Strongly recommended

2. This model includes two outer pockets, front and back (10" x12 ") to insert ballistic plates.
The ballistic plates reinforce this vest making it level III or IV:
Level III plates protects against grenade shrapnel and high-powered rifles (U.S. Military designation M80) with calibers as 7.62 mm, 5.56 mm, .223 remington, .30 carbine
Level IV plates protects against armour piercing rifles (U.S. Military designation M2 AP) with calibers as .30 caliber AP.
---

Quantity discounts - Also apply to Trauma Plates, Ballistic Plates and Carry Bags
(for wholesale click here)
2 vests: 3%, 3 vests: 6%, 4 vests: 10%, 5 vests or more: 15%

Available in black for immediate delivery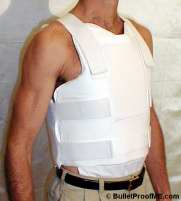 Ballistic II & Stab 1
or
 III-A & Stab 2

$ 400 - 800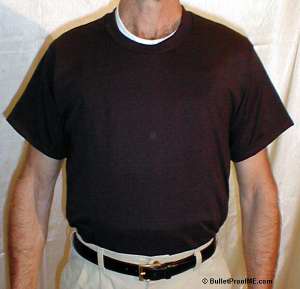 Enhanced Riot Faceshield for PASGT
.25" = 6 mm Thick
All the features of the basic model Option 1 model above, with a thicker more protective shield


V-50 tested for Fragmentation to 850 fps (259 mps)


1.6 lbs. (0.7 kg.)

NSN 8470-01-467-0754


Option 3

$ 95
ALL Included:
Faceshield
Complete Mounting System
Mylar Lens Cover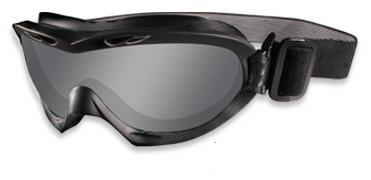 ALL Included:
Dark AND Clear Lens Sets
Plastic AND Elastic Temples Sets
Soft Carry Case
---
Extra Lenses $40
($35 with goggle order)
2.0 mm Polycarbonate lens exceeds ANSI Z87.1 safety and ANSI Z80.3 optical standards with perfect optical clarity and 100% UV protection.


Easy to wear under a helmet, aerodynamic, jump-able - can even be worn with night vision!


excellent peripheral vision


Stops a 5.8 grain Fragmentation projectile at 640 fps (195 mps)


anti-fog and scratch-resistant coating


NSN 4240-01-504-0994


Included you get Smoke and Clear lenses (easy to switch), plus a soft carry case, plastic temples and modular elastic temple retention strap system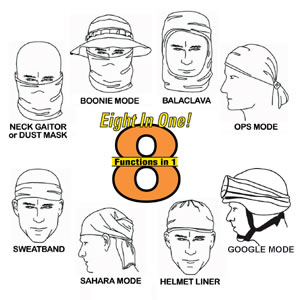 Guaranteed for life
Spec.-Ops.® Brand Lifetime Warranty
Simply put, if it's our fault (materials and/or workmanship), we'll repair or replace it - anytime, anywhere. If it's your fault (you survived and your gear didn't), we'll fix it ASAP and depending on how good your story is, we'll most likely do it for free. Enough said. Spec.-Ops.® Great Gear Made in a Great Country -
Legally speaking
Best Made Designs, LLC ("BMD") warrants the products which it manufactures to be free from defects in material and workmanship for life. This warranty is limited to the original purchaser ("Purchaser") of the product and is not transferable. During the warranty period, BMD will repair or replace, at its option, only the defective part of the product at no additional charge. Warranties for products marketed by BMD but not manufactured by BMD are subject to the manufacturer's warranty. Some products manufactured by BMD contain components not manufactured by BMD and in this case, the manufacturer's warranty applies to these components.
Warranty Return Process
1. Call for an RMA number before returning any gear.
2. Return only the defective portion of the product, shipping prepaid, to BMD
3. Be sure to include the following information:
Proof-of-purchase/date
Product name or description of part.
Description of problem.
Dealer you purchased the item from.
Your name, address and daytime phone.
The Purchaser is responsible for insuring any product so returned and assumes the risk of loss during shipping. All replaced parts and products become the property of Best Made Designs, LLC. Dated proof-of-purchase must accompany the product being returned when requesting warranty work.
The Purchaser may request information on how to obtain warranty service by calling Best Made Designs,
Customer Feedback
If you have feedback about the quality, durability or construction of Spec.-Ops.® Brand products, please let us know. Your feedback is valuable to us. We will gladly welcome your comments and criticisms. You can either send your comments to the above address, attention: "Quality Department" or e-mail us at the address below:
Send your comments to unbrokens@gmail.com
Disclaimer

This limited warranty does not extend to any products which have been damaged as a result of accident, misuse, abuse or as a result of service or modification by anyone other than BMD. Except as expressly set forth above, no other warranties are expressed or implied, including, but not limited to, any implied warranties of merchantability and fitness for a particular purpose, and bmd expressly disclaims all warranties not stated herein. All implied warranties, including implied warranties for merchantability or fitness for a particular purpose, are limited to the duration of this warranty. In the event the product is not free from defects as warranted above the purchaser's sole remedy shall be repair or replacement as provided above. Under no circumstances will bmd be liable to purchaser or any user for any damages, including any incidental or consequential damages, expenses, lost profits, lost savings, or other damages arising out of the use of or inability to use the product. Some states do not allow limitations on how long an implied warranty lasts, so the above limitations or exclusions may not apply to you. This warranty gives you specific legal rights, and does not affect your statutory rights which vary from state to state or country to country.

Warranty Registration Form
Company profile

creates combat-grade, rock solid tactical nylon products for organizing weapons and gear that improve performance in the field. The company is innovative and committed to creating smart solutions for the everyday equipment needs of the military, law enforcement, homeland security and other demanding applications.
Brand was started in 2000 when two former CamelBak Products employees, Jeff Wemmer and Bryan Heflin, recognized a significant market opportunity. By training, servicemen and women are highly organized. But Wemmer and Heflin knew that no quality gear existed to help them. As a result, they spent valuable hours packing and repacking equipment needed to do their critical jobs. There was a lot of expensive, specialty gear, but no one was developing products for soldiers to manage and organize their gear.
A new category: gear management and organization
Brand team set out to develop products that would minimize the thought the soldier had to put into the organization of gear so that the focus could be on the real task at hand. In the process of creating their products, they pioneered a new category — gear management and organization. Wemmer calls it "a force multiplier." —"We help troops minimize clutter and redundant effort to maximize task efficiency."
rapid fire design process gets new products into the field fast. Simple products can be in production in as little as five weeks. And the design and development process is hands-on. Everyone in the company talks to troops in the field. Wemmer tests much of the gear himself during the design process in his role as a competitive shooter, achieving #2 overall in the M16 carbine military rifle segment at the 2004 International Tactical Rifleman's Championships.
enjoys a good relationship with AAFES (Army and Air Force Exchange Service). The relationship is based, in part, on the company's responsiveness. A request from a soldier immediately becomes a prototype shown to AAFES for feedback. The result: commercially viable products based
on soldier needs.
products are 100% Made in America and available at military outfitters and post exchanges (PXs), as well as by phone or Web order. "I believe we're making a meaningful contribution by pushing the technological boundaries of high performance gear – making it lighter, simpler, more efficient. Our goal is to develop advanced gear that truly maximizes the efficiency of troops on the ground," Wemmer says. "That way, both we and they will be in a position to win."